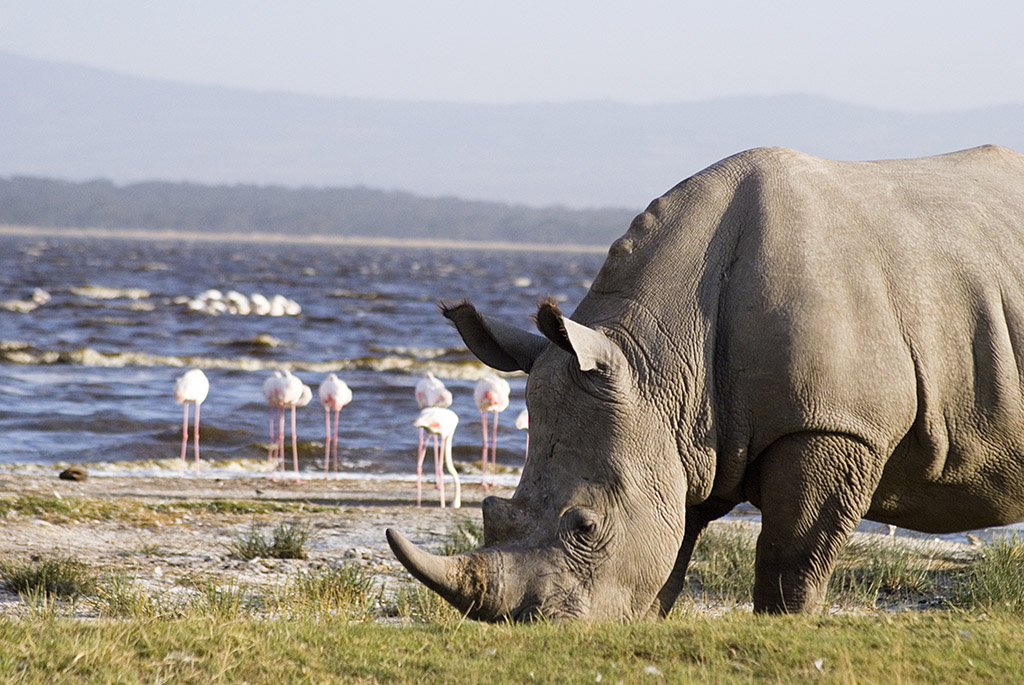 Lake Nakuru National Park lies deep in the Great Rift Valley, the lovely Lake Nakuru often glows pink from the flocks of flamingos that amass on its surface.
Lake Nakuru is a band of gleaming water stretching down the centre of Lake Nakuru National Park. The park is a rhino sanctuary and a bird watchers' paradise. Craggy escarpments along both sides of the lake have picnic sites and viewpoints with panoramic views of the lake. The park is home to 56 species of mammals including all the big cats, and has high numbers of both black and white rhino. With about 550 plant species including the biggest euphorbia forest in Africa, and 450 species of land and water birds, this park has something for everyone.
Nakuru has a variety of ecosystems, including savannah plains, bushy grassland and forest, which make for interesting game viewing. On top of this, the spectacular lake, craggy escarpments and attractive waterfall make this small park one of Kenya's most accessible and attractive national parks.
Attractions
Flamingo (Greater and Lesser) and other water birds including a variety of terrestrial birds numbering about 450 species in total.
Mammals: 56 different species including white rhinos, waterbuck etc.
View-points: Lion hill, Baboon cliff and Out of Africa
Hills: Enasoit, Honeymoon, Lion hill ridge etc
Waterfalls: Makalia.
Unique vegetation: About 550 different plant species including the unique and biggest euphorbia forest in Africa, Picturesque landscape and yellow acacia woodlands.
Cycle with rhino event every September yearly
Safari Itineraries Visiting Lake Nakuru National Park
Kenya Tour in 5 Days at Mt Kenya – Lake Nakuru – Maasai Mara
6 Days Safari in Kenya Visiting Amboseli – Nakuru – Maasai Mara
6 Days Lake Baringo – Bogoria – Nakuru – Hells Gate – Maasai Mara
8 Days African Safari Visiting Mt. Kenya – Loisaba – Ol Pejeta – Nakuru – Maasai Mara