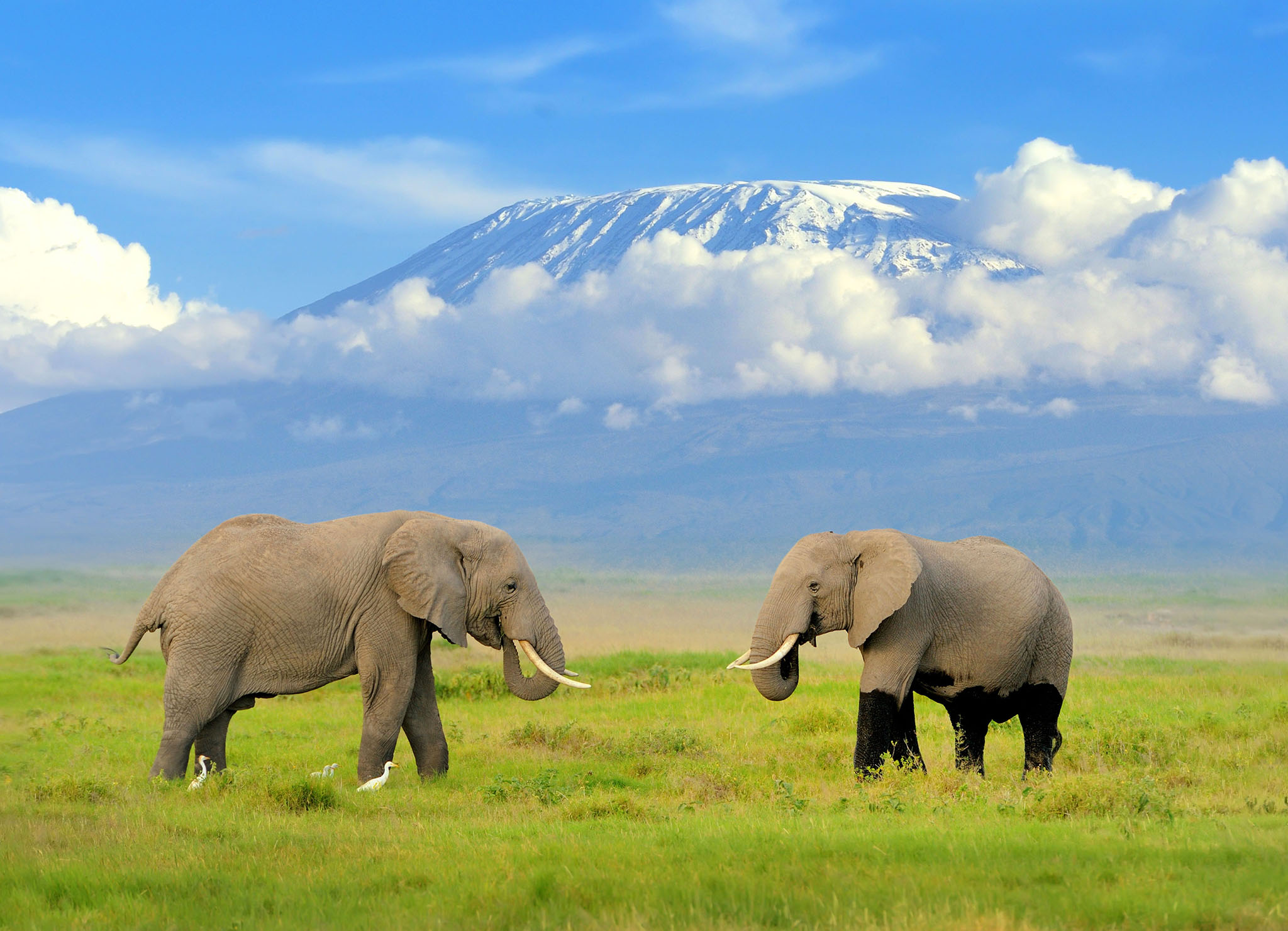 Kilimanjaro, the highest mountain in Africa and the highest freestanding mountain in the world, towers over Amboseli National Park from across the border in Tanzania. The mountain and its snow-topped peaks make a stunning backdrop to the many attractions of this park.
Amboseli is known for the huge herds of elephants that roam the park, and for the world-renowned elephant research undertaken here that has contributed significantly to the understanding and preservation of elephants. All the big five reside here, as well as a variety of other plains game and water dwelling animals such as hippos and crocodiles. Plentiful birdlife can also be found here.
The word Amboseli comes from Empusel, meaning salty, dusty place in the language of the Maasai, who live in the area. However, this hardly does justice to the range of habitats found here including savannah plains, woodlands, wetlands with sulphur springs and the seasonal Lake Amboseli. Selenkay Conservancy borders the park and extends the wildlife area, giving the animals a safe corridor through which to migrate. Observation Hill makes an attractive viewpoint from which to view the park and the animals that come to drink at its marshes and waterholes.
Several camps and lodges are located in and around the park. Game drives, balloon safaris and cultural visits to local Maasai villages are all available here.
Safari Itineraries Visiting Amboseli National Park
6 Days Safari in Kenya Visiting Amboseli – Nakuru – Maasai Mara
Safari Holiday Vacation in 8 Days, 7 Nights Visiting Amboseli – Naivasha – Bogoria – Nakuru – Maasai Mara
Kenya Explorer Safari in 10 Days Nairobi Visiting Amboseli – Mt.Kenya – Samburu – Ol Pejeta – Nakuru – Maasai Mara
Kenya Explorer Safari at Tsavo East/West – Amboseli – Aberdare – Samburu – Ol Pejeta – Nakuru – Maasai Mara, 12 Days